Gerda Lerner: Her Life
Gerda Lerner lived through much of the turbulence of the 20th century. She always viewed her personal life within the political context in which she was living. In one of her latest books, 
Fireweed: A Political Autobiography
, she describes her choice of title, inferring that this plant symbolizes her and the life she had lived so far:
Fireweed – a ubiquitous pioneer on disturbed soil by roadsides and fire clearings in the forest. Rocky Mountain Wildflowers of Canada (1979)
The common name "fireweed" alludes to its quick growth in areas devastated by fire, the pink magenta flowers brightening the fire-blackened land. During World War II the plant grew in large numbers in bombed and burnt-out areas of London. Wildflowers of Eastern America (1974)
According to a Native American legend, every fireweed plant is the soul of a tree that was burnt in a forest fire.
Gerda was born in Vienna, Austria on April 30, 1920, the first child of an affluent Jewish couple. Her father was a pharmacist, her mother an artist. As a teenager, Gerda joined the anti-Nazi resistance and spent six weeks in an Austrian jail. Her thoughtful and rebellious nature was apparent early on in her life. Her family managed to escape from Austria and persecution by the Nazis. Gerda immigrated to the United States in 1939, where she had to do years of menial work in order to survive. She became a committed Communist, along with her husband, filmmaker Carl Lerner. Together they were involved in numerous grassroots activities involving trade unionism, civil rights, and anti-militarism. They also were active in opposing McCarthyism, especially the Hollywood blacklist. While in her forties, Gerda returned to school, earning an B.A. from the New School for Social Research in 1963 and an M.A. and Ph.D. from Columbia University in 1965 and 1966 respectively. Her dissertation became her first publication,
The Grimke Sisters from South Carolina: Rebels Against Slavery (1967)
. Gerda is one of the founders in the field of women's history. She played a key role in the development of women's history curricula. She taught what is considered to be the first women's history course in the world at the New School for Social Research in 1963. She was also involved in the development of similar programs at Long Island University (1965–1967), at Sarah Lawrence College (1968 to 1979) where she established the nation's first women's history graduate program, at Columbia University where she was a co-founder of the Seminar on Women, and since 1980 as Robinson Edwards Professor of History at the University of Wisconsin in  Madison.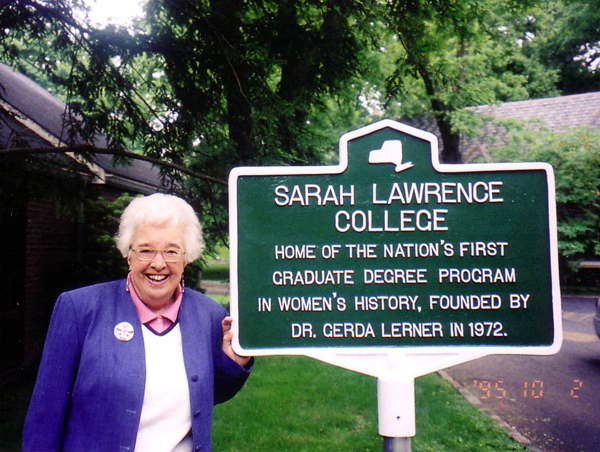 Gerda was an active and politically astute historian, and one of the first women's historians. She was a talented writer, an inspiring and demanding teacher, an example as well as a companion to younger female scholars. She was a forceful presence, demanding that women stand on their own feet, think for themselves, and
learn from history.
Gerda wrote many influential essays and books. Among her most important works are the documentary anthologies 
Black Women in White America (1972)
and
The Female Experience (1976);
 the essay collections 
The Majority Finds Its Past (1979)
and
Why History Matters (1997); and
The Creation of Patriarchy (1986)
 and
The Creation of Feminist Consciousness (1993)
. She published
Fireweed: A Political Autobiography
in 2002 and her latest book
Living with History – Making Social Change
in 2009. As the president and educational director for the Organization of American Historians, she helped make women's history accessible to many, including leaders of women's organizations and high school teachers. The Organization of American Historians named the Gerda Lerner-Ann Scott Prize for the best women's history dissertation in her honor. In 1986, Gerda won the American Historical Association's Joan Kelly Prize in recognition of her work on the roots of women's oppression. She also received the Austrian Bruno Kreisky Prize for her lifetime achievements and the 2006 political book of the year, and has received many other prizes and honorary degrees. Gerda passed away at her home in Madison, Wisconsin on January 2, 2013 at the age of ninety-two. More information:
www.gerdalerner.com