Planning post-production, the Premiere and distribution for 2016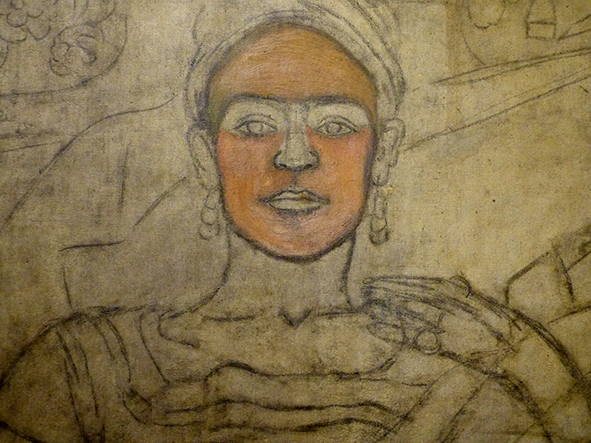 You may wonder why this unfinished painting by Frida Kahlo features in this blog. One thing is that I mention her at one point in the documentary, as I have always admired her and especially her passionate way of living and making art. And fortunately, I was able to visit her colourful house a few weeks ago in Mexico City whilst being on a 6-week trip through Mexico and South America with my friend and colleague Kirstie Simson. We are giving workshops on the question 'What is it that moves us' – a movement and dialogue project we have been working on for the last two years. (
www.whatisitthatmovesus.com
). Today I took a day trip to Colonia in Uruguay. I am in Buenos Aires at the moment and here you can take a one hour boat trip to visit Uruguay. Whilst I was wandering the streets of this beautiful small leafy colonial town, some space opened up in my mind for the first time since weeks to think about the next steps for the documentary 'Why Women need to Climb Mountains'. In the middle of October, two days before stepping on the plane to fly to Mexico City I was still working on the last film edits. Then I sent the final draft to a few close colleagues and consultants, did a small showing to friends in my flat in Berlin and left. I have now received enough feedback to be confident enough to say  that by the end of February (after doing the last rounds of corrections of the sub-titling, credits and some of the images) the film will be able to be officially released and to be post-produced for DVDs (English and German version) providing we will get some more funding. While I am here in South America, I am also working on distribution channels and organising the various showings of the film in 2016. The plan is to do the Premiere in Spring 2016 both in the US and Europe around women's day and women's month. If you would like to show the film in a place near you or have some ideas of people or organisations that may be interested, please feel free to contact me under this email address
whywomenneedtoclimbmountains@gmail.com
.  You can find the trailers to the film on this website here
https://www.womenneedtoclimbmountains.com/trailer/#.VkHydr_RuJ9
. And since there is still a shortage of funding for the last post-production steps, please feel free to support the last step of the film.
https://www.womenneedtoclimbmountains.com/contribute/#.VkPjWr_RuJ8
I look forward to being in touch with some of you and also look forward to let you all know soon where you can watch the film. I want to also use this opportunity to thank all of you for your generous support, patience and encouragement and most of all to Gerda whose strong spirit followed me and us all throughout.