A present from Gerda Lerner
Dear friends,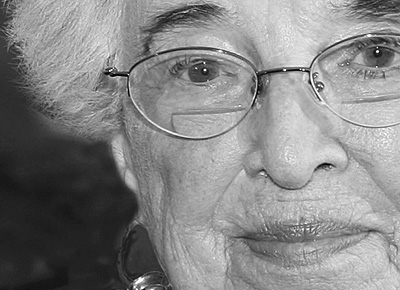 I have been  reflecting on the situation in the USA and talking and hearing also from friends how impacted they are by a future that feels very unknown and insecure…. So I had been planning to do a Premiere in the USA in March 2017, since some organizations and institutions showed interest. Until then the film was not going to be available for sale in the English version (for the German and soon the English and Spanish version on DVD please go here:
https://absolutmedien.de/film/4052/Warum+Frauen+Berge+besteigen+sollten
) When DT got elected I changed my mind, I felt that Gerda Lerner needed to be heard sooner than March 2017. And after asking a few friends in the USA what I should do, I decided that I am going to release the documentary
WHY WOMEN NEED TO CLIMB MOUNTAINS – A JOURNEY ON THE LIFE AND VISION OF DR. GERDA LERNER
on
Vimeo Download on Demand
today,
kind of as a Christmas present to all of you who have been patiently waiting and asking. So you can watch the film as soon as you like in your own time, maybe even over the holidays if you have a bit of time. Professor Kathryn Kish Sklar who is also featured in the film said that everyone needs to immediately get inspired and encouraged and not to wait. So, I agree, and I am sure Gerda would agree.  And she would maybe say as she said before: we need to act AS IF the world is not corrupt, AS IF we are not outsiders, AS IF we can make this world a better place. I also owe this release to Gerda as it is her four year anniversary of her leaving this world January 2 2013. Today I found by chance my diary of 2012 and saw that I landed in Berlin exactly 4 years ago on December 23, ready to embrace the city and loving it although it was freezing cold and incredibly grey.  I was looking forward to work on the script over the Christmas period, after having done so much filming and interviews. A few days later I heard that Gerda was poorly. It was a week of insecurity and of not knowing until we heard that she passed away peacefully. After the Berlin attack last Monday I think all of these 'moments' come together to one moment: that we act AS IF there is much more love in the world and between us than we hear about, AS IF there is no tomorrow, AS IF the world is NOW a better place, AS IF we act with kindness and strength. I hope you enjoy the film and get some strenght, courage and Gerda's smart and thoughtful activist power from it. I wish you all a relaxing and reflective Holiday Season and send warm Greetings from Berlin. To be able to buy the film you can go here:
https://vimeo.com/ondemand/wwncm
(for private purchase only) NOTE: For public showings there are other prices (universities, public institutions, gatherings of more than 15 people). Please contact me
here
.